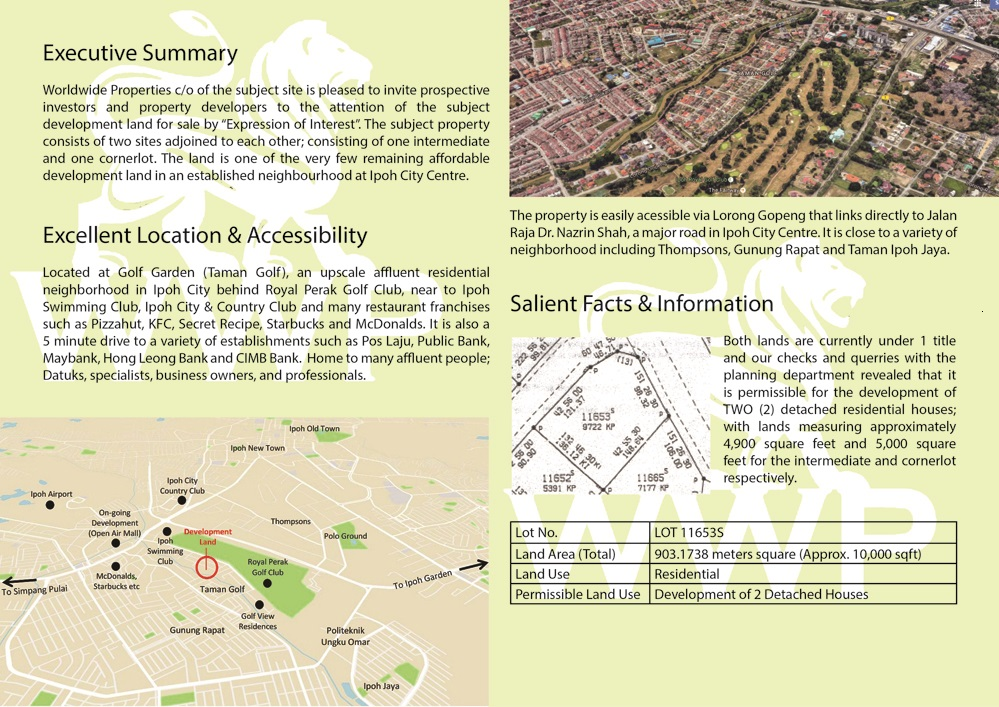 INTRODUCTION
Our formal querries with the local authority showed that this land had been allowed for the subdivision and construction of two bungalows/detached houses. Located at the heart of Ipoh City right behind Royal Perak Golf Club is in a prestigious location where all the units are custom built Bungalows in the vicinity.
THE LOCATION
Located at Golf Garden (Taman Golf), an upscale affluent residential neighborhood in Ipoh City behind Royal Perak Golf Club, near to Ipoh Swimming Club, Ipoh City & Country Club and many restaurant franchises such as Pizzahut, KFC, Secret Recipe, Starbucks and McDonalds. It is also close (within 3km) to a variety of establishments such as Pos Laju, Public Bank, Maybank, Hong Leong Bank and CIMB Bank. Home to many affluent people; Datuks, specialists, business owners, and professionals. Taman Golf is notable among Ipoh residents as a luxurious area and is one of the first Bungalow development in Ipoh City.
SALIENT FACTS
Property Details:
10,000 Square Feet (2 lots);
a) Land A measuring approximately 4,900+ square feet
b) Land B measuring approximately 5,000+ square feet
*Note that both Lands had been approved for detached houses development and is
to be sold together as a single transaction
c) There is a detached single storey bungalow on the subject property so margin of financing can be up to 90% by Banks; providing extra cash flows for investors/developer
d) Asking price *Negotiable.
Other notes:
*Nearby subsale transactions in the same neighborhood are transacting from RM1.4 million to RM 2.4 million in 2018. In December 2017, a 7,200 sq ft land with 4,500 sqft build up area was sold for RM2,500,000. In February 2018, a 6,200 sqft land with less than 4,000 sqft build up area was sold for RM 1,480,000.
*One of the neighboring houses newly constructed is asking for RM2.7 million.
Location

:

Ipoh

Tenure

:

Leasehold

Address

:

Ipoh, Negeri Perak

Price

:

Call to Enquire

$ Range

:

$1 000 000 - 10 000 000

Key Contact

:

+6016-5434262 (Mr Tham - Land Owner)

Type

:

Residential Land